TT Training will start on the Thursday 22nd of April. Like last year we will use one of the club segments as the route and ride it like a conventional TT with riders setting off at 30 second intervals and being self timed via Strava so you can monitor your own progress.
Groups will be limited to six riders but we may have two groups or more depending on demand up to a maximum of 15 riders.
It is a training run and NOT a race so it is a tough workout to give a flavour of a TT race and allow you to start to understand pacing or to test your form. TT bikes and all aero kit is allowed so this is also useful to test set-ups etc, but any bike/kit will be fine to do this. All bikes MUST have a rear light and care must be taken at junctions.
To start off we will use the April Challenge Course, a new segment which I have made of 12.82 kms, the segment is called DTCC Challenge 1. The start is on Spaniel's Bridge Road not far from the Horton Road junction and the Bridge Inn Pub. The group/s will meet at the junction of Chandlers Lane and Horton Road in the small lay-by by 6pm.
You can view the segment on Strava here : https://www.strava.com/segments/27678593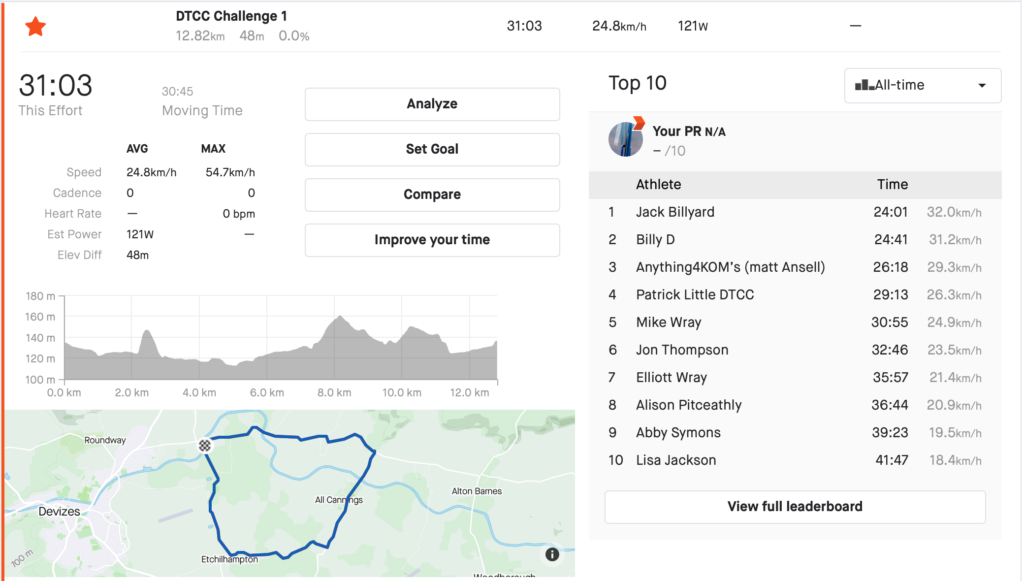 We ask that if any members are suffering from any illness or experiencing any symptom that could be COVID related that they do not ride until they have recovered.
Please respect the social distancing requirements when meeting up, riding and dispersing.
Please understand that whilst these arrangements appear formal, we trust they will not be onerous and they are in the interests of all and aimed at working within the prescribed government framework. We appreciate your co-operation and assistance in making them work
View related post : April 2021 Challenge